Quota Management
Detailed description covering Varicent's features, including Incentive Compensation, Territory and Quota Management.
Learn why Gartner has recognized Varicent (IBM) as a Leader in the 2020 Gartner Magic Quadrant for Sales Performance Management.
Varicent on Cloud with quota planning enables sales executives, managers and professionals at all levels the in the organization to more efficiently plan, manage and distribute quota assignments that meet revenue expectations and increase sales performance.
With Varicent on Cloud, organizations can model the financial impact of proposed quotas prior to rollout for cost management and budgeting, report on quota attainment and pay distribution to improve incentive plan effectiveness and ensure alignment between sales professionals and corporate objectives.
Compensation administrators can build plan logic to include quota attainment levels that are used in the calculation of commissions and bonus for sales representatives.
Sales representatives are able to view dashboards and reports that display quota targets, quota attainment and compare these values against actual sales revenues.
Sales operation staff and managers can access reports that allow them to assess which sales representatives, sales team or territory is in jeopardy of achieving quota targets and proactively launch selling activities to boost sales revenue in advance of the period close date.
Business benefits:
Effectively plan, manage and distribute quotas throughout the sales organization

Easily make changes to quota distributions while tracking historical assignments

Top-down or bottom-up collaboration at all levels of the sales

organization
Highlights:
Cloud or on-premise deployment
Visually manage quota planning and distribution
Configure workflow routing to plan, review, approve and distribute quotas
Quota distribution, attainment reporting and analytics
YOU MAY ALSO LIKE...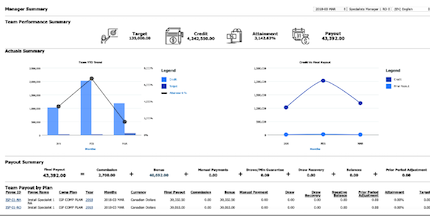 Incentive Compensation Management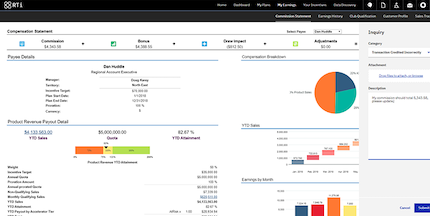 Varicent for Salesforce.com Data Sheet
RETURN ON INVESTMENT
Let's calculate your potential ROI!
Wondering what kind of return on investment Varicent will yield for your organization? Let us help you calculate your potential ROI and provide a completely customized report of benefits your business could realize from using Varicent.