Varicent Begins AWS Cloud Journey with Symon.AI launch
2020
One-stop sales performance management system

Varicent is the solution organizations rely on to track, manage and report on sales performance. Varicent solutions are focused on incentive compensation, territory, quota management, and analytics with Symon.AI. Varicent is an independent software provider backed by Private Equity investors such as Great Hill Partners and Spectrum Equity.

Symon.AI makes analytics easy. Companies have too much data yet lack the understanding of how to impactfully utilize that vast amount of information.

Symon.AI turns data into evidence to inform better decisions—it allows users to find meaningful patterns in complex and sophisticated sales performance management systems. Symon.AI provides a unique, easy, and intuitive perspective to the data that drives business results. And for now, it's available exclusively to existing Varicent users.

Symon.AI allows Varicent clients to route appropriate data from the calculation process of Sales Performance Management (SPM) through Symon.AI to apply the right context through data preparation tools. This allows the user to easily understand the impact and discern patterns. Results are provided through business user Apps or returned to the Varicent calculation stream for distribution in reports, statements, and dashboards.

Product Development and AWS Innovation Sandbox

Varicent chose Amazon Web Services (AWS) to kickstart the Symon.AI project for its powerful capabilities and performance. In the Gartner 2020 Magic Quadrant for Cloud AI Developer Services, it's identified as the clear leader for the breadth of its AI portfolio and distinguishes itself with the comprehensiveness of its cloud AI and ML environments.

AWS is recognized around the world for reliability, performance, and its powerful capabilities. Garter Research notes this with the highest score in both axes of measurement: "Ability to Execute" and "Completeness of Vision".

Symon.AI takes full advantage of the AWS Partner Network as a trusted business partner to deliver on the promise of making analytics easy for sales performance management clients.

Productivity Gains Lead to Rapid Deployment on AWS

Varicent utilized AWS Cloud Formation to expedite its product development process and took advantage of Amazon Kinesis and Amazon Elastic MapReduce (Amazon EMR) to set up its Big Data and Analytics engines in the AWS Cloud. For its storage needs, Varicent uses Amazon Simple Storage Service (Amazon S3). The company relies on Amazon Elastic Block Store (Amazon EBS) snapshots to back up data in Amazon S3 and ensure business continuity with geographic data replication. Symon.AI AWS Architecture is shown below: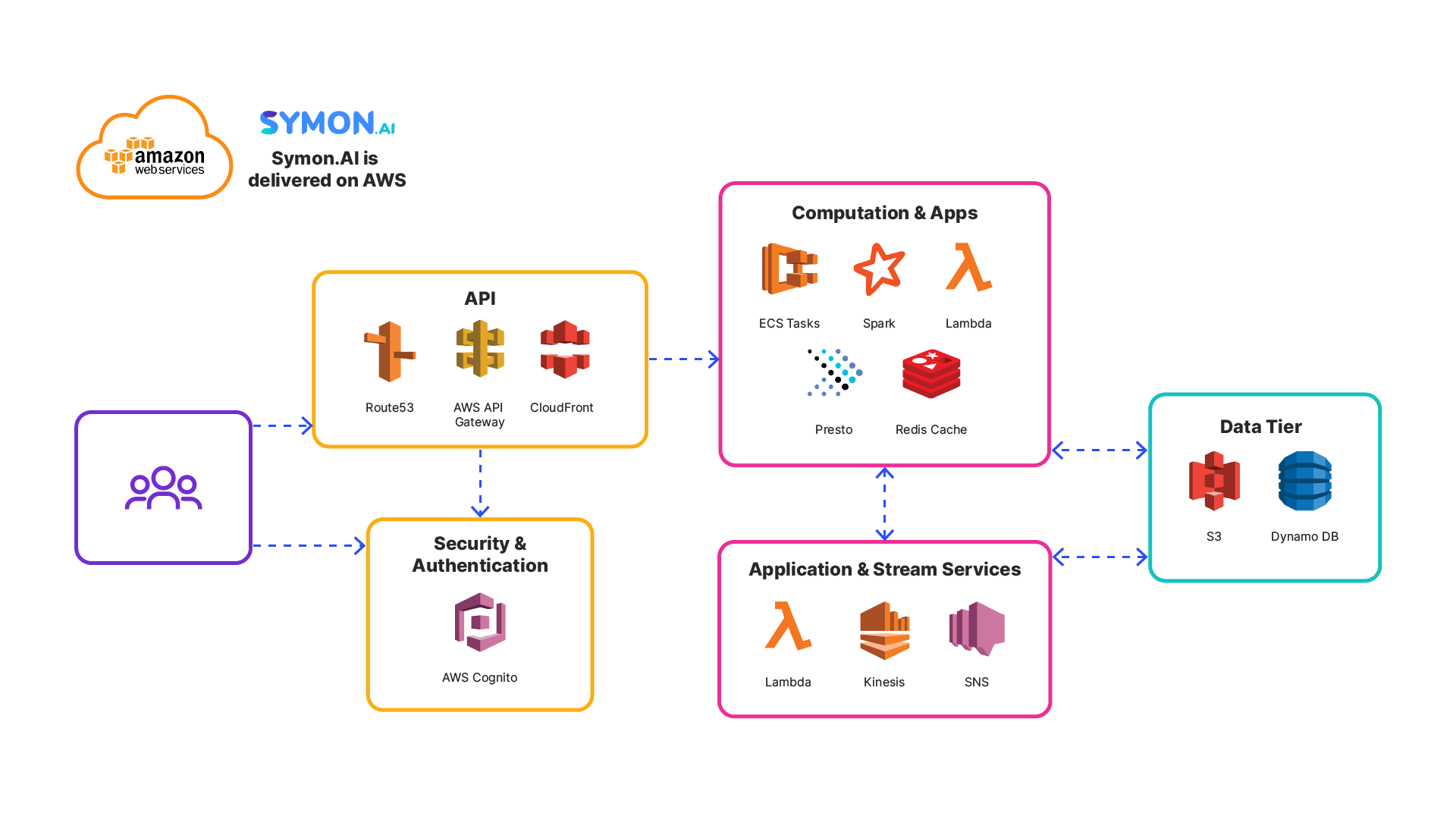 A seamless, all-in-one solution

Available tools on the market are often too big a step up for the business user or data consumer—they're built for data engineers and data scientists. Symon.AI is made to be easy-to-use, with no coding required, on the powerful AWS platform.

It includes three areas outside of the integration point:
Data: A preparation stage to organize and cleanse.
Pipes: A powerful workbench with tools, filters, rules, predictors and visualizations.
Apps: Business user-friendly interactive visuals that explain and explore results.
Our Apps provide the most compelling evidence for your most important business problems in sales performance, including Seller Performance, Seller Churn, Gender Pay Gap and Customer Churn, with more Apps still in development.
By using Symon.AI, you can go from a predictive-modeling tool to a business problem-solving tool with ease.