Increased inflation, war, and political changes are all increasing the probability of a recession in 2023. This, paired with layoffs and high turnover, are directly impacting sales teams.
In volatile times, many companies slash their go-to-market teams in anticipation of slowing growth. In our 4th Annual Benchmark Survey, we found that quota attainment keeps going down. This is a bit unnerving, especially when you consider the drops from 2020 to 2021, where we saw the average team quota attainment drop from 66.3% to 52% .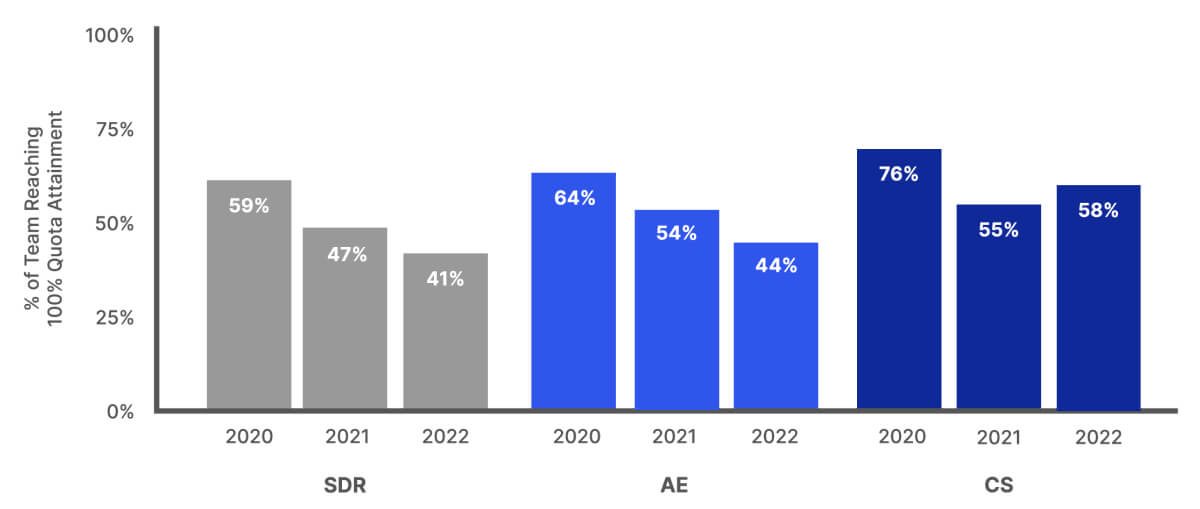 As we mentioned in Roadmap to Successful Selling When Growth Takes a Nose Dive, sales leaders should contain costs, improve operational efficiency, and examine changing needs of core customers during a recession.
Retaining your sales reps during this time is also important for long-term success. The cost of turnover and unmotivated sellers can have lasting impacts on your organization. If your team isn't reaching their goals in their current role, they may look elsewhere to meet their goals.
To hit revenue targets, businesses need to re-evaluate their sales strategies. The way organizations approach compensation needs to evolve. Here are 3 cost effective compensation plan tips to help you reach your quota goals, and keep your sellers happy.
1. Revisit quota plans more often
Economist John Maynard Keynes once said, "when the facts change, I change my mind. What do you do?"
It's unclear if there's any business that hasn't been forced to rethink their strategy given the level of economic, political, and social change in 2022, yet 58% of companies in the survey did not revise their quota plans. Did you?
Quotas are designed for sales reps, to motivate and guide behaviors. This means that 58% of companies have reps who might not be keyed into the latest way of thinking about customer problems. This could attribute to why they may not be hitting their number. Teams do better with more regular quota setting cycles.
2. Quota on two metrics
Most sellers' quotas are based on won business. When companies give AEs two quotas, one on closed won business and another on a pipeline metric, AEs perform much better. In our latest research, we have found that with two quotas, 69% of AEs reach 100% attainment. With 1 quota, only 38% of AEs reach 100% attainment.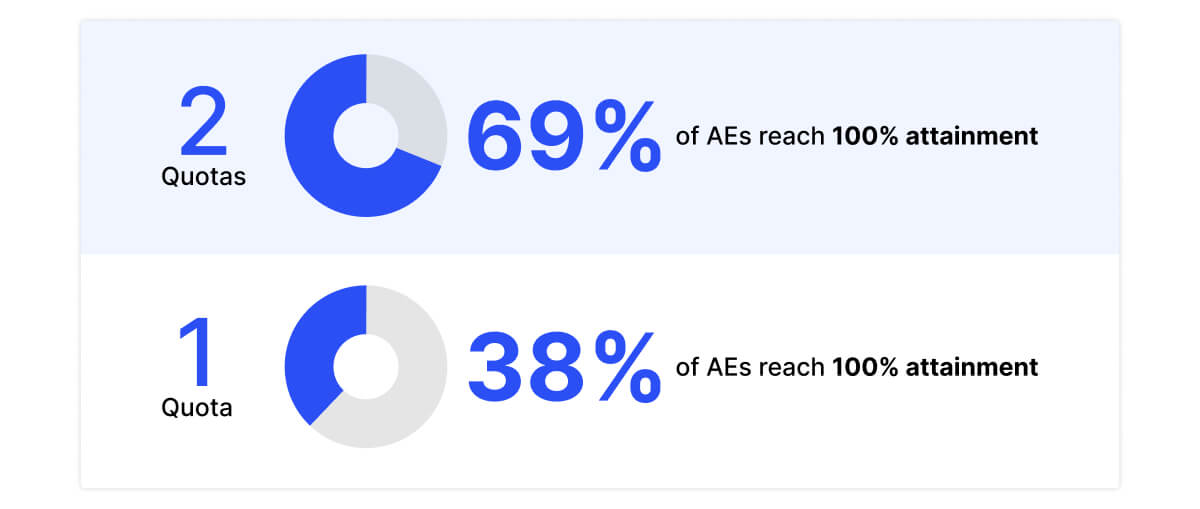 These plans with two metrics seem to work because they not only highlight the outcome your rep is aiming for, but also highlight the pipeline work that needs to be done to get to those outcomes. This can include accounts prospected, discovery calls, and demos completed.
3. Have real-time insights to commissions
Surprises intensify how we experience both positive and negative emotions by 4x. Commissions shouldn't be a surprise to reps. Surprising reps on payroll days usually isn't a good thing. As a leader, you don't want to have your team in a negative mindset, especially when client-facing. Give reps real time visibility into their earnings; you might find you're 4x happier on payroll days. In fact, the survey shows that companies who provided their reps with real time reporting had 3% to 5% higher attainment across roles.
Our 4th Annual Commission Plan Benchmark Report uncovers more findings that will help shape your 2023 compensation plans. Download your free copy today to learn the latest trends, the changes to compensation this year, and how to use this information to strengthen your team.