Did you know, on average, 66% of salespeople report feeling overwhelmed by too many tech tools?
Furthermore, research suggests only 28% of all sales professionals are expected to meet quota this year.

What's distracting sellers and disrupting their focus? One of the main culprits is scattered sales technology.
Streamline Your Sales Tech Stack
There is no mistaking, sales technology is highly effective for planning, scheduling, tracking and motivating. Sales organizations that don't use sales technologies have experienced a 12% decrease in their goal achievement rate. However, when the technologies are scattered across various apps – sellers spend more time switching between tools, copying and pasting data, logging in and out. It takes time to refocus with every distraction.
According to a University of California Irvine study it takes an average of 23 minutes and 15 seconds to get back to a task. These frequent interruptions accumulate and result in a loss of productivity.
On average, sales organizations have 10 sales tech tools in their stack. But according to a recent study, only 20% of sellers have fully embraced the technologies available to them.
While technology can enhance productivity, it can also derail it if it becomes too complicated. Watch this What I Wish I Knew clip that talks about how to streamline your Sales Tech Stack.
The solution? Streamline how sellers use sales technology. That's where Slack integrations prove beneficial.
What is Slack?
Slack is the heart and soul of productivity, collaboration, and communication for countless organizations. Essentially, it is a cloud-based communication tool designed to help teams communicate more efficiently and effectively.
Here are some interesting stats about Slack:
· As of 2023, there are 20 million daily users
· Over 1.5 billions messages are sent every day
· 65% of Fortune 100 companies use Slack
· An average Slack user is active 90 minutes per day
How Do Slack Integrations Benefit Sales Teams?
Beyond the DMs, huddles, and channels, Slack offers seamless integrations with the many apps sellers rely on every day. The Slack integrations provide sellers easy access to important information and functionalities, without the hassle of toggling between screens. In fact, Slack offers over 1500 apps that provide flexibility to your team.
6 Use Cases for Slack Integrations
Communications: Connect to other messaging platforms or email services.
Automation: Streamline repetitive tasks and workflows by integrating with project management software, calendars, CRM systems.
Notifications: Send alerts to specific channels or users when events occur, such as software updates, or competitor activity.
File Sharing: Effortlessly collaborate on files by integrating cloud storage services like Google Drive or Dropbox
Productivity: Use tools for task management, time tracking, note-taking and more.
Analytics and Reporting: Pull data from various sources and present in within Slack channels.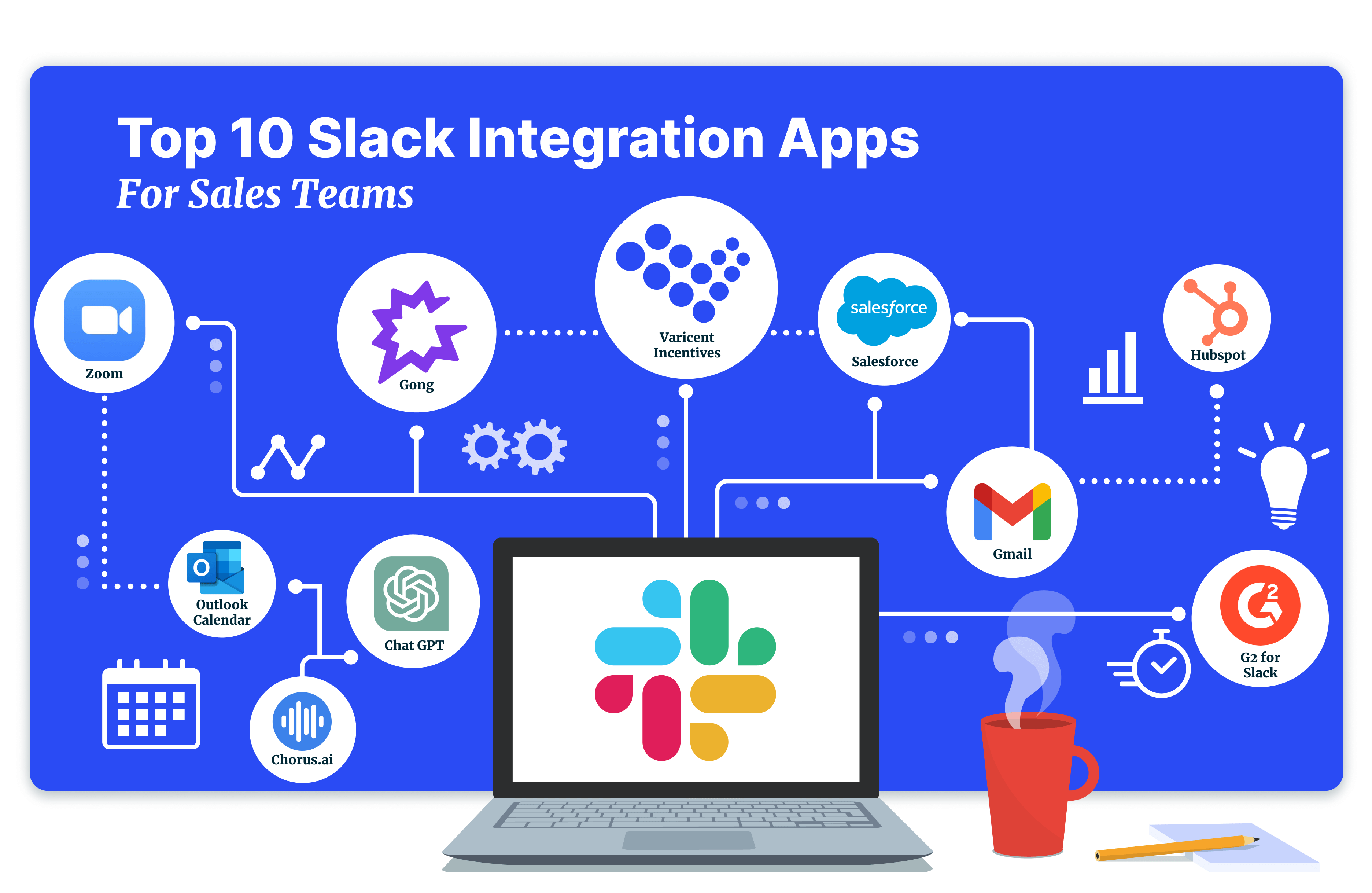 4 Types of Slack Integrations that Optimize Seller Productivity
1. Go-to-Market Solutions
Real-time views of sales targets and performance indicators
Seller Portal reveals payee dashboards, compensation statements, plan documents and more
Submit pay inquiries or review past submissions
Access critical Incentives data
2. Customer Relationship Management
Automate admin tasks
Access Salesforce data
Monitor progress and timelines
3. Call Management and Tracking
Capture customer interactions across phone, web conferences, and email
Real-time alerts about calls and comments
4. Sales Team Collaboration
Video and audio conversations in one click
Breakout rooms, cloud recordings
Varicent and Slack Integration
Integrations are becoming increasingly essential in optimizing sales performance management, particularly with the growing prevalence of remote teams. Slack integrations offers an opportunity for sales teams to streamline their processes, increase productivity, and focus on revenue-generating activities. Incorporating Slack integrations into your sales team's toolkit is not just a convenience, it's a strategic move to maximize productivity and drive growth.
Learn more about the Varicent and Slack integration and how it can give your sales team a competitive advantage.