In his recent blog post,
Varicent's Chief Revenue Officer, Dr. Martin Fleming
, laid out a compelling vision of how selling is changing and what organizations can do in response. Of particular note is this 2x2 matrix, showing the current state-of-sales-tasks demand and how those tasks are projected to grow in the near future.
Figure 1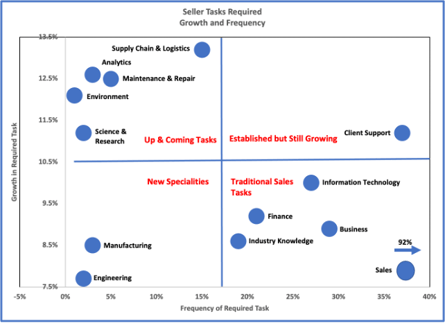 * Source: Burning Glass Technologies with author's calculation
This visual (Figure 1) contains a lot of good information, but one takeaway leaps to the forefront: the sooner a sales organization invests in the smart use of analytics, the better.
Why Invest In Sales Analytics?
As the graphic shows, analytics is a fast-growing, but still infrequently-required, skill. This suggests that most sales orgs are not yet mature in their analytics usage. Although data and dashboards often appear to be ubiquitous in today's business world, analytics sophistication is truly still in its infancy. Companies that invest in analytics today still have ample opportunity to achieve competitive advantage before the domain matures.

Analytics underlies the one skill that is both large and still growing – "Client Support." Sales organizations have long struggled to provide high levels of customer support at a reasonable cost. Analytics has become the linchpin that enables sales teams to systematically understand customer need and to target the right customers with the right support at the right time. The sooner a sales organization makes support decisions algorithmically rather than anecdotally, the quicker they achieve profitability.

Analytics, in fact, underlies most of the points in this matrix. Expertise in "Supply Chain and Logistics" – the fastest growing required skill – necessarily implicates knowledge of how data systems are fueling logistics decisions. "Maintenance and Repair" is inextricably intertwined with analytical models that enable predictive maintenance.
Quite simply, analytics is not a stand-alone sales skill. It is a foundation for better decision-making, opportunity-capturing, and problem-solving. Those that get there sooner will reap the rewards.