There's been a lot of talk about the Great Resignation, and there's no doubt why. Since the COVID-19 pandemic began, rates of stress, anxiety, and depression have skyrocketed. The combination of physical, emotional, and mental exhaustion has led to 76% of people experiencing employee burnout. The result is astonishing. 4 million people in the US are quitting their jobs. Every. Month. That's nearly 30% more than in 2019, which was also a record year for resignations. Sales burnout is at an all-time high.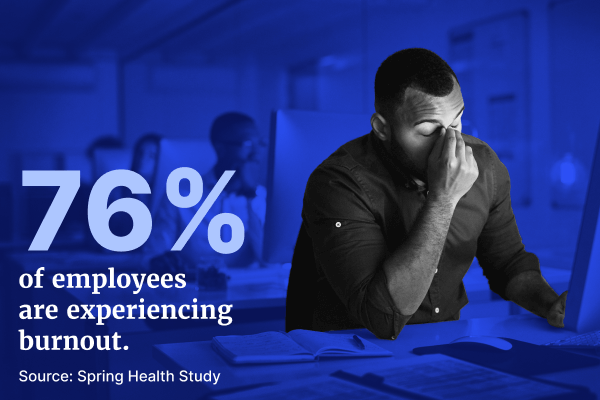 The Not-So-Great Impact on Mid-Size Business
A survey by HR thought leaders Hi Bob revealed that The Great Resignation is having the biggest impact on mid-size businesses with 50 to 1,000 employees. 56% answered that they were "very likely to likely" to quit over the next year. In comparison, only 40% of those at smaller companies and 36% at larger companies expressed their plans to resign. For mid-size businesses, employees are increasingly unhappy with their benefits and compensation and 55% wanted a better work/life balance. The financial impact of the Great Resignation is substantial. Gartner's research shows that each resignation can cost $19,000 on average.




Quotas Aren't on Target
With budget restrictions, market changes, and new challenges caused by the pandemic, it's much harder for salespeople to hit targets than ever before. And with the added pressure of hitting quota on top of blurred boundaries between home and work, it's no wonder employee burnout is so high.
Quota attainment has continued to drop across the board, so it's time to reapproach these challenges in a new way. We recommend staying organized with your quotas and encouraging your employees to disconnect.
Avoid Sales Burnout with a Blueprint to Quota
If you find your team struggling with quota attainment, here are 3 burnout warnings signs to look out for: low productivity, lack of motivation and focus, and a challenging time getting started.
Being organized can make a significant impact on your sales team's state of mind. And it can be as simple as just giving your team what they need to do to hit their targets.
Build a Clear Path
We suggest building clear paths for each rep to hit quota and identifying indicators for when a rep needs help. Building a blueprint to quota will help your reps know the activities they must do and when to do them.
Set Small Achievable Goals
Setting small, achievable goals helps boost confidence and feelings of accomplishment. Did you know that when we're presented with targets that are reasonably achievable, our brains give off a rush of dopamine? This chemical release gives us the extra energy to achieve the target we're going after. Our brains are actively trying to help us win! This sign of cognitive engagement reengages and motivates us to keep moving forward.
Break Down Goals into Smaller Tasks
So, motivate your team to set realistic goals and then break them down into smaller, manageable tasks. Goals that feel psychologically closer help us subconsciously begin to translate goals to more specific actions. Form new habits with incentives and introduce new tools to make forecast and pipeline conversations easy to make those smaller tasks easier. As a result, this will reduce the stress and uncertainty your reps have about hitting their quota.
Encourage Employees to Disconnect
Encouraging a work-life balance is key in building an engaged and productive team. It's important to set realistic expectations and to support setting boundaries between work life and home life. Educate your team on the warning signs of burnout and encourage them to take time off to recharge and indulge in some self-care! Supporting employees to disconnect can help both the business and the employees in the long run.
Provide a Quota Relief Plan
Reassure your team that it's okay to disconnect and take time off. Providing quota relief while your reps take time off and after they return to work will help them disconnect from the grind of their job. And when a rep takes a longer break, like a well-deserved vacation (or staycation!), give them a guaranteed commission so they're not tempted to go online and squeeze in some emails and virtual meetings. In some cases, it may even be worth it to double compensate your team.
Keep an Open Dialogue
It's important to have conversations with your team around well-being to identify employee burnout, rather than solely focusing on work. Demonstrate that you care about your team; people perform best when they feel heard and when their leaders have compassion. Offer clear paths to quota, support time to disconnect, and help your reps understand their value and contributions to the organization.
Give Real-Time Compensation Reporting
Commission reporting is feedback, so it matters. Reporting frequently and significantly reduces ambiguity and improves focus. In Sales, feedback should allow reps to see how they're pacing against their goals so that they can prioritize their pipeline appropriately.
Some employee burnout warning signs are lack of productivity, concentration, and focus. Real-time commission reporting helps reps engage with their targets meaningfully so they can focus and concentrate on their work. Better reporting gives reps autonomy to better manage their time to balance quota and customer needs.

For more tips on how to help and your team exceed their targets, download our latest eBook on evolving your compensation plans to keep up with today's market.
Improve your team's motivation with a sales compensation solution for mid-size businesses built on the behavioral science of performance. Schedule a demo with us today and see how we can help you defuse sales burnout.