This is part of a series of interviews with B2B revenue leaders. This interview is with Kyle Lacy, CMO at Lessonly.
Note: at the time of the interview, Kyle was working at OpenView Venture Partners as their VP of Marketing.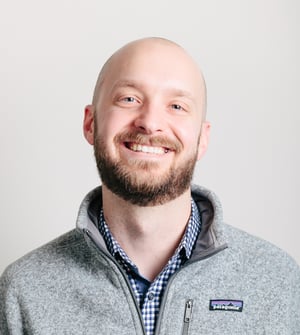 Today I am speaking with Kyle Lacy, VP of Marketing at OpenView Venture Partners. In addition to that, Kyle is also a keynote speaker and a three-time author. Welcome Kyle!
Could I get you to explain a little bit about OpenView as a business, and what your role with the company is?
In the simplest terms, we're a venture capital firm. What makes us unique to other venture capital firms is that we solely invest in software companies at the expansion stage. At expansion a company is typically generating between one and two million of dollars in revenue. At that point, they're
ready to scale, and ready to grow. That's where we come in.
Half of my time is spent marketing OpenView, while the other half is spent consulting portfolio companies mainly on top of the funnel tactics. Content strategy, branding, thought leadership… the list goes on.
Do you have any exciting projects on-the-go or new books coming?

I don't know if I will ever have another book. It was definitely a learning experience, but not sure if I'd ever do it again.
We do have some exciting projects going on at OpenView which is where I'm spending a lot of my time right now. I would encourage everyone to check out OpenView Labs, our digital publication at OpenView. We post daily articles on scaling and growing software companies.
Our topic today is one that is near and dear to our hearts here at Varicent, and that's the importance of clean data. How should marketers approach cleaning data?

Number one, they should do it.
I'm not going over the top when I say that the majority of marketers don't clean data, and they don't know whether their database is up to date or if their processes that are in place are actually working or not. Forrester came out with a stat saying that up to 70% of CRM implementations fail because of bad data. That's a big deal.
Since I work at a venture capital firm, I get an inside look into many companies. I have to say that the number one issue for a lot of SaaS companies is dirty data. The only way that you can create a good experience for your audience is if you actually know who they are, and why they care about you. Without clean data, that's impossible to understand.
What is it about dirty data that will cause a CRM implementation to fail?

Well, in B2B, if you think about a number things including:
attribution modeling

lead lifecycle management

MQL to SQL handoff
You can't fully understand that unless your database is intact and functioning correctly. When leads pass from the marketing team to the sales team, all that information needs to be appended to that contact record. You need to know that Mr. or Mrs. CMO from Fortune 500 came in through these different channel and have had conversations with these different people.
You can have marketing systems that's functioning really well, and a CRM that's functioning really well, but when you put them together they'll break if the data cleansing processes aren't set-up properly.
One thing I've heard you preach in the past is getting teams off of spreadsheets. We did some primary research a couple years ago and discovered that 94% of marketers are reporting using spreadsheets. What's wrong with marketers using spreadsheets for their reporting?

There's two main reasons that come to mind right away.
It takes too long and is too complicated.
It's really hard to manage data when everybody's using a different system. If you think about an RSVP for events—we're terrible at this at OpenView—you create a Google Sheet and manage an event registration list that helps you figure out who's coming and who's not. What happens after that event is over? Do you download it and import it to Salesforce? Maybe, but why not just have a system that allows you to automatically update it within Salesforce? That's a very simple example.
When everybody is on Excel, it's hard to manage because you've got to rely on people to follow processes that are more intense than they need to be. When you have one system of record, like Salesforce, and you have point solutions that are integrated with Salesforce, it's much easier to keep organized.
People leave
Now think about if people quit or get fired… you're screwed. Chances are they'll just delete everything. You're setting yourself up for failure to begin with, and who wants to use Excel on a daily basis? Nobody does. Honestly — no offense to Microsoft.
Getting onto one system of record isn't as easy as it sounds… what are your suggestions for getting on one system?

Yeah no kidding—depending on the size of the company—it's nearly impossible.
Your CRM, your database, should be the system of record, and all of the tech decisions you make need to be able to integrate to that database. I don't care if you're a talent team, I don't care if you're a sales or marketing team, I don't care if you are an accounting firm or a zoo, everyone has databases.
Something I've heard you talk about is the importance of knowing unit economics like CAC and LTV, but most marketers don't. It seems they are caught up in email open rates and other vanity metrics. Why is it so important for marketers to know unit economics?

Well, it's because the people that pay you care about them. There isn't a better way to explain it, honestly.
Marketers spend way too much time on vanity metrics, and not enough time trying to understand the financial implications of what they're doing. Unit economics is the lifeblood of the company.
You must understand that, because if you do an event that generates a lot of pipeline that turns into closed-won deals, you need to know that. You also need to know if all of those deals end up churning a year later, even if it's not your problem, you need to be part of the solution. That way you can go to customer success ask what's going on or look back at your audience personas and rethink who you're targeting.
When the different business units of a company (sales, marketing, customer success, product, etc.) don't understand the main unit economics of a business, then nobody is working together towards one common goal.
That's why I think as marketers, if we want to evolve into the future where artificial intelligence among other things will be displacing a lot of what we do, it's time to truly understand what drives our businesses to succeed. That's the unit economics.
When you look at the funnel that sales has, it's a very clean, mathematical funnel connecting sales activities to revenue. Now, when you look at marketing's funnel… things get fuzzy. Why hasn't the connection between marketing activities and revenue been made to the same extent as it has with sales?

Over the past two or three years, the amount of software and technology that has emerged has made it much easier for marketers. The problem is that people don't spend enough time trying to understand it. So honestly, half the problem is laziness.
When marketing budgets are one of the first to go, it's important that you're tying your activity to a revenue number. Pipeline's okay, but closed-won business is best. Closed-won business after the customer has been around for a year is even better.
After an MQL becomes an SQL, marketers tend to remove themselves from the equation. They don't make an effort to understand how that lead moved through the funnel or how they we onboarded.
An exercise that will provide great value to marketers is to take a look at how long your leads have been around after they've closed. If something's broken along the process and it's impacting your leads, that's our responsibility as much as any of the other business units within a company.
I'm curious to hear what some of your favorite resources are:

Must-follow on Twitter
Jason Falls is somebody that I really enjoy to follow, which is @JasonFalls. Very funny on Twitter, even more so in person.
Favorite book
From a book perspective, I tend to not read business books. I tend to read history books, because I think it teaches us a lot of just functionality and how civilizations have succeeded and failed.
Business can learn a lot from history in general, so my favorite book to date is called 'Confederates in the Attic' by Tony Horowitz.
Favorite Blog
I don't think I could pick just one so I'll just say the entire site of Medium.