What's the Difference Between a Sales Pipeline and Sales Funnel?
Sales Pipeline and Sales Funnel, Together or Apart?
Sales pipelines and sales funnels, same thing, right? No, not really. When you began your career in sales, it's likely that you stumbled across a sales pipeline or find yourself somewhere in the sales funnel fairly quickly. But did you really understand the difference between the two? By the time you've completed this article, you'll be very clear as to which is which.
Actually, we're going to do more than tell you what a sales pipeline is and what a sales funnel is and leave it at that. Our comparative approach and hints will help you determine the situations and tasks that need specific sales pipeline management or possibly a unique sales funnel strategy. The sales pipeline model is well-regarded and applied frequently because it fits businesses of every size. Whether you're a) a brand-new start-up selling handmade soap in your local craft store, b) an established business of 150 employees looking to get your line of organic chocolate into a food store chain, or c) a well-known global tech enterprise entering a new continental territory, applying a sales pipeline model and process to your sales cycle will hold value and give shape and meaning to your strategy, metrics, and business performance objectives.
The Sales Pipeline Stages
Here's a visual reminder of what a sales pipeline looks like in its familiar, inverted pyramid form: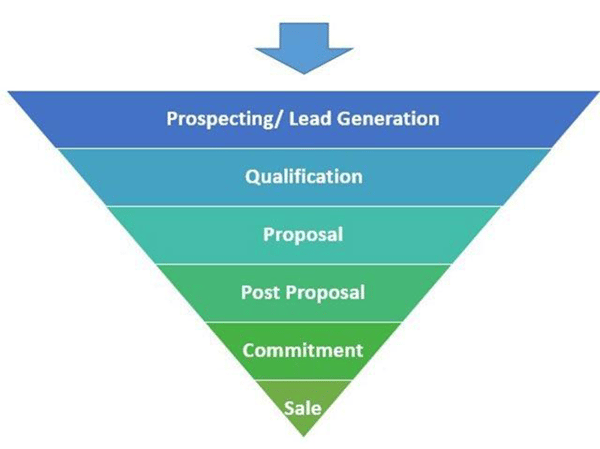 The widest layer is where many prospects begin, but few survive to the narrow sale tip
The sales pipeline model works so well for businesses of every size (even that cute, little soap operation where they mix it up in a home kitchen), is that it covers the sales process from the first contact with an opportunity, prospect, or lead through the sale to aftercare and repeat business, while also giving a business a better level of control and visibility over the sales cycle.
You can dig deeper into the specific stages here.
By understanding what sold well in that first craft shop, the business owners can approach and engage with other craft shops or the organizers of craft fayres. Using this same methodology, our fast-growing organic chocolatiers can determine who on their expanding customer base may want to sell their vegan cacao bars and subsequently what is, for example, an average order value.
Smaller businesses can take comfort from knowing that there is solid evidence behind the model to prove growth when using the sales pipeline. A study carried out by Harvard Business Review showed that companies with an effective pipeline management system had an average growth rate of 5.3% per year. That's a 15% higher rate of growth than companies without an effective sales pipeline management strategy.
Now, to turn our attention to the specifics and applications of the sales funnel.
Maximizing the Sales Funnel
In appearance, the sales funnel is akin to taking off the prospecting/lead generation and qualification layers of the sales pipeline upside-down triangle, then reshaping it into a new inverted triangle with its own specific layers and stages.
If you're still unsure of the difference between this and the sales funnel, let's break that down and display this process in the infographic below.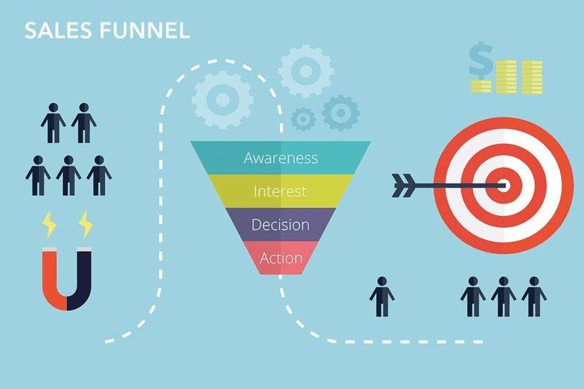 Customers captured and engaged by marketing are on target to make a purchase
The sales funnel is the initial customer engagement, marketing, and conversion journey. If there is no existing relationship, then this is where all those customer relationship management (CRM) tools and tactics are pulled out of the box labeled 'Acquisition' and used to maximum effect.
As you journey through each stage of the funnel, your prospect is ever nearer to making a purchase. A well-planned sales funnel will define the actions your business needs to take to push prospects to the next stage. The funnel offers plenty of chances to use marketing and customer experience to capture the customer and their business.
At Varicent, we take the sales to funnel and its benefits so seriously, we've even acquired a bespoke sales performance management product (SPM) to help businesses navigate this more successfully.
Let's take a brief look at each layer in the sales funnel before citing some examples as to when it should be applied.
Awareness
This can be an awareness of the product and its uses, the business behind it, or both. You can increase or create awareness through direct marketing mail-outs, emails, brand and advertising campaigns, social media platforms, influencers, blogs, competitions, and offers. These are the enticements. It's also about identifying a gap in the market for your product or brand and offering the right solution, at the right time to the right prospects. Therefore, we stress the huge power of online searches and SEO that could bring your customer right to your digital doorstep and onto your website. How then, do you get them to come through the shop door and onwards to the next stage in the sales funnel?
Interest
Well done, you've grabbed a prospect's attention, which isn't easy in the age of short attention spans. They're not only on your website landing page, signing up for further info or a possible product demo at that conference booth or downloading an eBook or white paper, they're giving serious thought to going one stage further. If you have their details, it's time to pull out the CRM big guns and start approaching them via an email campaign. The higher the level of personalization and relevant storytelling in this approach, the stronger the likelihood they will still be with you and sharing critical information such as an email address and further contact information.
"I'm not sending a marketing email; I'm sending a feeling" Anon
Decision (and Desire)
You can achieve the impossible with a sales funnel
When you first apply the sales funnel methodology, the gap between interest and decision is likely to feel like attempting to leap across the Grand Canyon barefoot. Fortunately, thousands of sales superheroes have completed that daunting crossing, and it doesn't have to be that treacherous. The trick is in making your prospect really want to be a customer. Some of the ways to drive desire and get a decision to further the purchasing journey, include:
Customer reviews/testimonials

Targeted ads via Facebook and Google

Case studies

Webinars/product training

Offers and discounts – if time-limited, all the better
Behind the scenes of all of this marketing and brand activity is a deeper campaign, where the object is to get a potential customer to trust in you, agree with your approach, and see the value to their business in what you're trying to sell. Our chocolate business is all about fair trade, high cocoa content, and never-been-tasted-before flavors. They have the backing of a famous food blogger and a YouTube star, as well as a suite of downloadable case studies about their cocoa plantation. They may be small, but they're ready for action. But is the customer?
Action
One thing to make clear. The "action" may not yet be a sale. It could be a meeting with a buyer, or maybe for the chocolate gurus, a trial run with some in a set number of shops, or in-store promotional activity and giveaways. The good news is that achieving the 'action' stage means the sales and marketing activity is working and people are taking notice of your product.
When a Sales Funnel and Sales Pipeline Meet
We've established the role and advantages of considering the sales funnel separately, but it's never entirely operating in isolation from the sales pipeline. Yes, there's a chance (and this is a 'happy' chance) that if 'action' equates to a sale, you can skip along rapidly to the sales stage of the sales pipeline. However, as stated above, transitioning from the sales funnel into the sales pipeline is more likely to put you around the 'proposal' and 'commitment' stages – which is still so much more optimistic than facing a dead lead. To reiterate, following the funnel was about laying the product marketing groundwork, now it's time to start the hard work, shape negotiations in person, and seal the deal.
Keeping the Sales Pipeline Pumping
There we have it. Now you know the place and value of the sales funnel within the sales pipeline. What about the tools and techniques to perform sales cycle completion well while hitting targets? Of course, there are hundreds of books that expound various theories on navigating funnels and pipelines and plenty of sales gurus that preach their own brand of motivational good practice, but aside from all of that received wisdom, we recommend partnering up with some great sales software before creating some sales magic of your own. The right sales performance management platform can produce value-rich reports and relevant metrics, which in turn will help your sales teams conquer both funnels and pipelines in style and on target.
Some may argue otherwise, but there's no exact science to selling. Sudden economic downturns, breaks in the supply chain, and global pandemics; these situations all carry the weight of the unexpected and the ability to ruin a perfectly good sales strategy. But with the tools to analyze market conditions, you and your sales force can successfully sail through the choppiest waters.
Discover how to create and perfect your own sales funnel alchemy by registering here for our webinar Lead to Revenue: Improve Your Buying Cycle and Recognize More Funnel Value on 3 Dec at 11-12noon EST.
Or find out more about our products and service by visiting www.varicent.com today or by talking to your local Varicent rep.