Varicent named a leader
in The Forrester Wave™ :

Sales Performance Management, Q1 2023
Markets are changing, and predictable revenue is a key factor for organizations now more than ever. Teams need to be equipped with the right tools and strategies to achieve and sustain results.
The Forrester Wave™ is a trusted guide for buyers considering their purchasing options in a technology marketplace. Download the report to learn why "Varicent is best for companies seeking a complete solution that meets their needs today and scales as their needs grow in the future."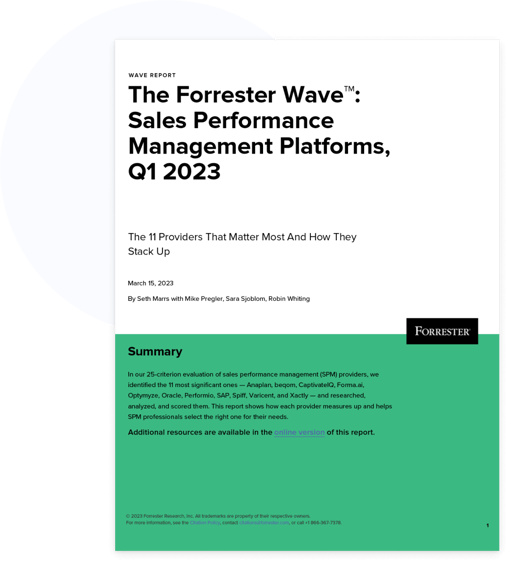 ...Varicent has focused on building a platform that could dominate the broad SPM market.
Fill out the form below to get access to the Forrester Wave™: Sales Performance Management Report:
INCENTIVE COMPENSATION

Sales Performance Management Buyer's Guide

Get the insights needed to successfully adopt a Sales Performance Management (SPM) solution. Data from experts that have designed, implemented, and managed these systems.

SALES PLANNING

The Complete Guide to Sales Planning

Dive into the sales planning basics, explore common pain points and dig into how sales technology can help you optimize your territory and quota plans. Download today!

INCENTIVE COMPENSATION

Achieving Profitable and Predictable Revenue Growth

Successfully achieve profitable and predictable revenue growth with Varicent's free eBook. Learn actionable insights and expert advice to strengthen your teams today.